Fortnite Tips and Tricks Season 7 ( Chapter 2 ) Get More Wins 2021
The Fortnite Season 7(chapter 2) is finally here, and you guys must be wondering about the best way to level up quickly in Fortnite Tips And Tricks Season 7.
So, walk through this article and grab the list of Fortnite Chapter 2 season 7 tips and tricks and quickly increase your level and grind massive XP even faster than the pro players.
Fortnite never ceases to amaze us with its every new season's arrival. And this time, "The Alien Invasion" has dramatically impacted the large Fortnite audience.
The latest season of Fortnite completely turned the game into a different universe, and multiple changes were made to the game that makes it more difficult than it was.
Now, you'll see a plethora of new weapons that are based on the Alien invasion theme. These include pulse rifles, rail guns, recon scanners, rapid-fire SMG, and more, and every one is unique in itself. Some have the highest damage rate, while some reveal the location of nearby enemies.
A lot of things are changed on the Island, so if you are new to this Fornite World or a returning Veteran and want to stand out from the crowd.
Then, this guide is for you. Here's everything that you need to know about Fortnite season 7 chapter 2 gameplay. Plus, you'll get some tips and tricks that will boost your XP in no time. So stick around and explore them.
New Movement Items in Fortnite Season 7
One of the significant drawbacks with Fortnite season 6 was the lack of mobility items. But that's not going to happen with Fortnite season 7 as it brought the launchpads, Kymera ray gun, recon scanner, and UFOs(Saucer) that seems like the great answer to that problem.
"Try not to let UFO catch you"
The main objective of the UFOs is to take you to a random place on the island. It won't eliminate you. But if it follows you, then shoot it down, and then it's all yours to pilot.
Additionally, some areas are highlighted in the purple text that indicates the presence of UFOs. These New movement items are highly crucial when it comes to getting into the safe zone.
UFOs can carry up to five people and have active lasers. Thus, making them one of the best vehicles in Fortnite so far.
Getting Used To The New Fortnite Map
From the past few seasons, the Fornite community continues to make some changes in the game, and the Fornite map has changed too.
This time the map reflects the theme of season 7. It seems like alien civilization has invaded the whole island, making drastic changes to it.
However, the POIs (Point-Of-Interest) were the same, but you will likely see some minor changes like remote locations, new landmarks along the way.
To begin with, the most significant update comes with the destruction of the Spire, as seen in the season 7 trailer, leaving some damages around its area and a little lake where you will be able to find Doctor Slone.
As well, all the towers of the Spire Guardians have now been removed from the map, leaving behind a route of purple vegetation and trees, where players can find aliens and sci-fi weaponry.
Sweaty Sands is also receiving some tweaks. The arrival of the alien mothership to the island will bring a crazy but positive side to this area, welcoming all out-of-this-world visitors to the newly renamed Believer Beach.
So, these are some of the changes which are added to the previous map. If Also you want to know about the How To Play Fortnite Advice For Absolute Beginners?
Fortnite Season 7 Secret Challenges
Fortnite challenges have always been the talk of the town. Why not? After all, who doesn't like to complete challenges and especially in Fortnite, where everyone gets exclusive rewards by completing them.
As for Fortnite season 7, aliens have arrived, and these aliens, for sure, are going to cause too much trouble on the Island.
But the weekly Epic and Legendary challenges will perhaps help players take them down and reward them for doing so.
This time, by completing this week's Epic and legendary challenges, you are going to have over 400,000XP. So, let's see what those Fortnite season 7 secret challenges are.
Epic Challenges:
Grab various weapon types (0/5) – 30,000 XP
Scan chests at Steamy Stacks or Craggy Cliffs – (0/7) – 30,000 XP
Deal damage with the Pulse Rifle (0/500) – 30,000 XP
Eliminate players with the Rail Gun (0/1) – 30,000 XP
Upgrade Weapons at upgrade benches (0/3) – 30,000 XP
Receive a quest from a payphone (0/1) – 30,000 XP
Purchase a shield potion from a Mending Machine (0/1) – 30,000 XP
Legendary Challenges:
Communicate with Sunny, Abstrakt, Dreamflower, Riot or Bushranger (0/3) – 45,000 XP
Collect Stone From The Aftermath (0/100) – 30,000 XP
Collect 10 different IO tech weapons (0/3) – 30,000 XP
Interact with Bunker Jonesy's conspiracy board (0/1) – 30,000 XP
Place rubber ducks in Retail Row, Pleasant Park, and Believer Beach (0/3) – 30,000 XP
Fortnite Chapter 2 Season 7: Supplement The Grind With These Tricks
These Tricks and grinds will boost your XP, and you'll likely grab massive XP and rank up faster than any other player.
1. Swimming
Swimming is one of the easiest ways to earn XP. So, ensure that before the battle starts dropping players, you should head towards the edge of the island and jump into the water and continue swimming until the battle bus starts.
This way, you can earn 12000 XP. You can do this in any mode, even in Team rumble mode.
2. Gliding
You need to build a high ramp and jump from there and start gliding before the Battle bus starts. This way, you can grab 12000 XP.
3. Collecting Consumables
For this trick, you have to visit the corny complex and in order to complete the quest, you have to eliminate cornfields. Here is the tip for you: by driving a vehicle across the field, the crops will destroy faster.
After that, you'll notice several cones spread across the field. Collect them and gain XP to level up.
If Also you want to know about the LATEST UPDATE Fortnite Mod Apk Unlimited v Bucks 2021, Unlocked Mobile Mod + Unlimited Money |
4. Completing Rare Quests or Milestones
Fortnite Chapter 2 season 7 has in total 70 rare quests that players can complete acquiring massive XPs. Each one of them consists of 5 stages.
However, if you want to complete them quickly, then you can engage with various LTMs.
5. Legendary Quests
This time players have an advantage in Fornite chapter 2 season 7 as Epic has increased the rewards.
Earlier the reward was around 32500 XP for completing the first challenge and then 24500 XP for following challenges.
But this season offers 45000 XP for the first challenges and 30000 for the rest of the challenges.
Do you know about this Play Fortnite Make Money Playing the Online Game, Install And Earn Now 2021|
Fortnite Tips And Tricks Season 7 | FAQs
How do I get better at Fortnite Season 7?
By completing daily challenges and collecting legendary quests, you can increase your level and can get better at Fortnite.
What is the best gun in Fortnite Season 7?
The legendary scar is probably the best gun in Fortnite season 7 as its damage rate is lethal; with only 2.1 seconds reload speed and 30 bullets in the magazine, this gun can deal with lots of damage.
What is the secret skin in Fortnite Season 7?
Superman skin will be the secret skin in Fortnite season 7. But it will take some time before the epic game releases it in the game.
Conclusion
So, this concludes the Fornite tips and tricks in season 7 chapter 2. These tips and tricks will help you in the battle with Aliens. As season 7 itself suggests that the aliens are soon going to invade Fortnite Island.
Plus, by following these tips and tricks, you can grab massive amounts of XP and level up faster than before.
I hope this guide opens up many amazing rewards for you. And if you think that I have missed any other aspect of Fortnite chapter 2 season 7 challenges, you can comment down and let me know.
Fortnite Next Event 2021 Season 7 ( Chapter 2 )
Fortnite Next Event 2021 Chapter 2 Season 7 is becoming one of the most popular seasons so far. And Epic games never ceases to amaze its audience with the massive updates and live events.
However, season 7, chapter 2, is almost coming to its last stage, and the folks are already being curious about the upcoming update patches. There is only one question in everyone's head: When is The Fortnite Next Event 2021 going to happen?
Well, the answer is still uncertain, but according to leaks, the live events are likely to be launched this week with the arrival of a new update(v17.20 ).
So, in this article, we have got you covered with the early update patch notes and upcoming live events.
The new update will bring new weapons more lethal than previous ones, cosmetics in support of the LGBTQ+ community, unique skins, and events like the Bugha icon series and rainbow event are going to be the popular Fortnite next event(2021).
What is The Fortnite Live Event?
Fortnite Live Events are the in-game events that occur within the match that connect to the storyline of Fortnite. They usually occur in the middle, near the end, season.
Most events involve turning off shooting, and the game automatically pauses the battle so that everyone can enjoy the event. But sometimes, build is still enabled, so players can build up and get a better view.
There are several types of events in the game, including major ones, minor ones, concerts, collab events, party royale events, solo events, and story events, and are held as per the locations on the map.
Some of the significant events that Fortnite had up till now are: The Meteor Event(Season 3), The Rocket launch(Season 4), The cube(Season 5), The Floating Island(Season 6), and this time, something grand is cooking as the Fortnite chapter 2 season 7 live event is near.
If Also you want to know about the Fortnite Tips and Tricks Season 7 ( Chapter 2 )|
Fortnite Season 7 Live In-Game Event
This time the players are going to experience the very first Fortnite live Event ever since season 4. However, we are not counting the Zero crisis event because it was not live.
The live events normally take about 2 to 5 days before the season ends, this leads us to believe that this season's live events will actually be going to end very soon as compared to the Fortnite events 2020.
This season Fortnite users are expecting to see something similar to the season 4 live event(Nexus War). However, some data miners claim that the live event will be held in the middle of the map.
And Aftermath is most likely where the entire event will take place. Considering that the central part of the map also contains the Zero Point, we can expect the upcoming event to play a massive role in the Fortnite lore. If Also you want to know about How to Download Fortnite Without Epic Games Launcher, PC |
When is The Next Fortnite Live Event 2021?
The dates for the next Fortnite Event 2021 are still uncertain. But there are possibilities that It might arrive at the beginning of August.
According to specific tweets and famous leakers, it has been said that the countdown for the season 7 live event will appear as a hologram sky beam and will have three stages, and the countdown will use "Alien number glyphs" pointing to the central theme of the Season 7( The Alien Invasion).
When is The Next Fortnite Concert?
Fortnite is going to have another huge live concert after the success of Marshmallows and Travis Scott's concert.
Though the dates are still uncertain, there are rumors that Epic games will drop the dates this weekend.
Undoubtedly the previous live concerts were the blast, and after the live concert of Travis Scott, live concerts became a bit more prominent.
So, according to the data miner HYPEX, this season, Fortnite is going to feature the famous female singer Ariana Grande.
Ali-A(Fortnite content creator) theorized that with the recent addition of Pride cosmetics, the Rainbow Royale and Ariana Grande concerts might be related.
And Grande is going to perform at a Pride event in August. The dates for the next Fortnite concert are unclear. But the leaks suggest that the event could be this season.
Fortnite Next Event 2021 | FAQs
What Time is the Fortnite 2021 Event Happening?
The dates are not mentioned by the Epic games but the events are scheduled for the first week of September according to the leaks.
Is Fortnite Shutting Down in 2021?
No, 'Fortnite' Will Not Be Shutting Down Anytime Soon. The new year has brought on rumors that more than one popular online game will be shutting down its servers.
Is Fortnite Growing Or Dying?
Yes, it's the fact that Fortnite has seen a decline in popularity over the past few years. But it's still uncertain to say that it's dying.
Is Apex Better Than Fortnite?
Let's look at some figures of both games. Fortnite took more than 40 days to hit 20 million players while on the other hand Apex breaks all the Fortnite records by hitting 25 million players in just 7 days. This shows the newcomer Apex has an upper hand over Fortnite for now.
Conclusion
So, this was all about Fortnite Next Event 2021. The Fortnite event schedule 2021 is not mentioned by Epic games, but according to leaks the dates of events will most probably be released in the first week of August.
Live Events are a great source of people's attention that's why Epic games use these techniques to attract new players.
Fortnite's Live Event has always been the talk of the town since it was first introduced in season 1 and from that time the trend goes on.
Last time Marshmellow's concert went viral over the internet and with that single live concert Fortnite community gained 10.7 million players. That's a huge number in itself.
And even this time Fortnite users are hoping for something big and lit.
Play Fortnite Make Money | Playing the Online Game, Install And Earn Now 2021
Fortnite is a free online battleground game. Epic games have developed it, and people can fly. The Fortnite battleground is a post-apocalyptic zombie-infested world.
There are two other modes other than a battleground. Fortnite Play Fortnite Make Money also has various tournaments conducted. There are more than 350 million players active in the game.
How much money does Fortnite make a day? A question from newcomers. For this, I can only say, if you have ever thought about playing Fortnite, make money.
Isn't it amazing to earn money without investing a single penny in the business? You can play Fortnite to earn money in thousands.
It is a dream coming true that by playing your favourite game, one can make a living. There are many ways like streaming games, playing tournaments and boosting others player accounts.
All this sounds alarming at first, so here as a guide, we have mentioned how one can play Fortnite to make money with a proper description and amazing points for smart earning.
Read below for helpful information.
---
4 Different Ways To Make Money Playing Fortnite
There are different ways to make money playing Fortnite, like streaming games and playing a tournament.
One can even earn by boosting another player's account. But before that, you must know the basics like who made Fortnite, how much money Fortnite makes, and the Fortnite's business model behind this great success. Down below, you will find everything necessary-
1. Fortnite's Business Model
Fortnite is a demanding game with billions of gamers actively playing Fortnite for free. This game made by Tim Sweeney is a blast after getting launched through epic games. Originally, Fortnite was there as paid for $40, but in 2017, it swiped as a free online game.
Now epic games keep a constant view on all in-app purchases in the game, like new outfits that players buy and the funky dance moves that make them earn money.
Fortnite is easily accessible through many available platforms like PlayStation4, PC, Xbox One, Mac, IOS and Android. This wide range of availability is another reason for Fortnite being a super hit game for years.
Like PUBG, it doesn't limit to the same platform; you can play with the players accessing through other devices also.
Fortnite also has a much fictional approach toward their player. With funky costumes and engaging tasks for their player, which differ from PUBG being a military-based game.
By this strategy, they make billions in the year. Especially in 2018 when they had that revenue of $60.8 billion, which was 80% of total gaming revenue.
There are mixed results when we google "How to make money playing Fortnite 2020", but the diverse option might confuse them with the actual image. So here, they will find handpicked options of how to make money playing Fortnite 2021.
Through these choices, you can play Fortnite, make enough money for your livelihood. So with wasting time, let's start with first.
---
2. Start Streaming On Youtube
There Are many people generating incomes from streaming video on youtube. By streaming videos, one can earn enough money for paying their bills. You will only get paid by google on live streaming after getting monetised.
As Google doesn't offer ads to every channel, one needs to have a certain level of subscribers to get monetised by Google. By continuously providing authentic content, one can easily get monetised by Google.
Surprisingly, hundreds of cooperating employees dropped their job because they were earning enough money through YouTube for living. After reaching more than 4,000 watch hours in 12 months and 1,000.
Subscribers, in addition to only your Fortnite channel, will get monetisation.
While live streaming, one can ask for a donation through super chat to make money from Google( Even though it is a bit tough to ask for and you need to do something extra for entertainment).
Google takes 30% of the total revenue, and super chat payment varies from $1 to $500.
Later on, one can do merchandising and affiliate marketing while they are live streaming.
---
3. Winning And Betting On Fortnite Tournaments
Various tournaments are organised in Fortnite from where anyone can earn money easily. Even though there is some age restriction to participate in these games, it is nominal.
Tournaments are the golden chance for pro players to cash in their hobby. There are not hours taking procedures before participating. One can take part just after making a profile on Fortnite.
There are huge tournaments like Fortnite World Cup and Trio Cash Club for the highly skilled players to play Fortnite and earn money.
Here the amount of money increases as the level of competition improves. One genuinely can make more than millions by winning the game.
You can also get all poll cash prizes by competing with others on hand-in-hand matches, tournaments and numerous custom events.
Other than these, you can bet in the tournaments and earn more money by guessing only.
---
4. Get Paid For Boosting Other Players' Accounts
Boosting others' accounts is a convenient means to earn money by helping other players with services to achieve their desired aim. One can give services like levelling, battle pass tiers and challenges.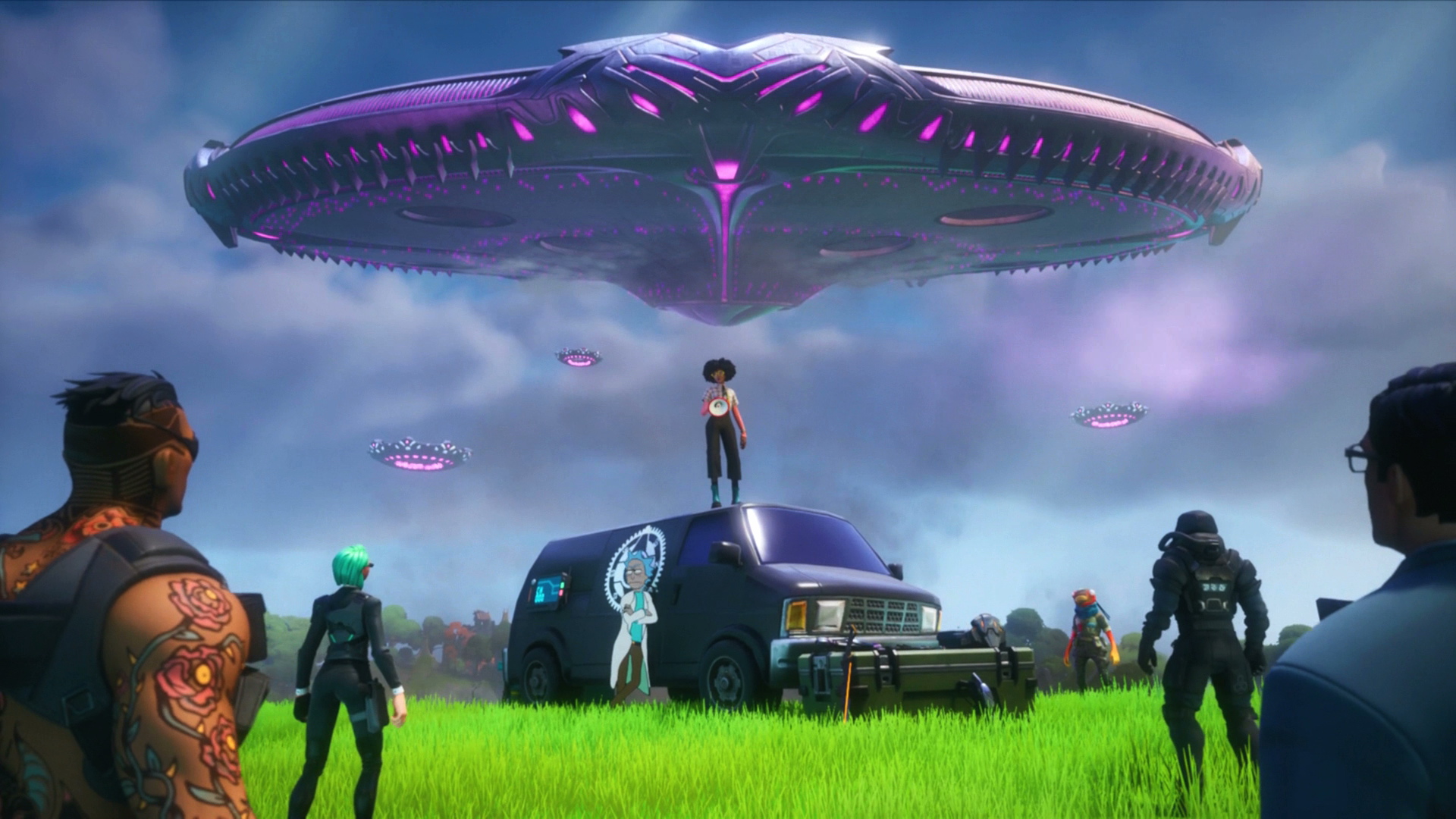 One prepares their personalized rate list for their services and then asks the player to provide their login and password.
There thousands of ninja players earning by boosting others account .
Play Fortnite Make Money | FAQs
Can you make money from playing Fortnite?
Yes, one can play Fortnite for money. Fortnite, a game by epic store, has various tournaments going on to earn money by winning. One can participate in different level competitions to earn cash from hand-in-hand matches to Fortnite world cup tournaments.
 How much does Fortnite make a day in 2021?
Revenues for Fortnite is on the hike since they launched. After 2017 they have collected revenue of $60.8 billion in the year 2018, which was 80% of total gaming revenue that year. In 2021 Fortnite made $30billions. According to that, Fortnite is making around $83 thousand each day.
 How much will Fortnite make in 2021?
There is a super demand for the battleground game Fortnite. Their attractive and engaging features results in collecting revenues in billions since launch. Compared to last year revenue of $18 billion which has been doubled this year to $30 billion.
How much do pro-Fortnite players make?
A pro-Fortnite player can earn billions by constantly streaming their video on YouTube, participating in tournaments and providing couches and boosting services. The players like Bugha have earned $3.16 by winning the Fortnite World Cup solo championship.
---
Conclusion
The Fortnite game made by Tim Sweeney is a highly addictive game that can hold its players for hours. This game is functional on various platforms and has an attractive concept like a zombie and weird creatures to rush adrenaline.
After getting available for free, it experienced the attraction of million players back in 2017, resulting in revenue collecting of $60.8 billion in the year 2018.
It is a golden chance for many gamers to earn money while playing their favorite game Fortnite. But when you search how to make money playing Fortnite 2021 on Google, infinite options will come.
So here I have selected the one with more earning methods to earn money while playing your favorite game Fortnite online.
How to Uninstall Fortnite on PC, PS4, PS5, iOS & Android Completely
How to uninstall Fortnite? Is this what you are looking for? Then congrats you made it to the right place.
Here you'll get a full guide on how to uninstall Fortnite on PC, PS4, IOS & Android completely. It will take hardly a few minutes to learn the steps that I have mentioned in this guide.
Fortnite is an online video game developed by Epic games in 2017. Undoubtedly it is the most popular Battle royale game in the Gaming world. But as we all know that every coin has its two sides.
Same goes for Fortnite, despite being the most advanced Battle royale game in the world. Now it's losing its popularity and people are switching it with other games like Pubg Mobile and a lot more interesting games. Why?
Well, there could be many reasons like consuming a lot of space on several devices or if you are new to this then chances are there that you won't be able to understand it in the first attempt. Because there are many complicated things in the games like building forts, tons of settings for choosing weapons and all.
Also after playing all day long you got fed up with it. And now you're no longer interested in it. If that's the case then I suggest this game is not for you.
So, let's dive right into the guide and install Fortnite from your respective devices.
---
How to Uninstall Fortnite Completely?
This guide will help you to uninstall Fortnite and alongside it's files from any device and in no time you'll be able to get rid of it.
Here in this guide, I have explained each step in a precise way so that you won't find any difficulty while implementing them. So, just stick to this article and explore this complete guide.
By following these steps you will be able to uninstall Fortnite completely alongside it's internal files. As in many cases users only remove the game by simply uninstalling Epic Games Launcher and it's residual files still remain intact .
So to completely uninstall it from your device you have to follow a few more steps and apply them to your respective devices.
By clicking on these links below you can easily save your time and learn the steps required to completely uninstall Fortnite.
---
How to Uninstall Fortnite on PC?
As you all may know that on PC Fortnite supports the Latest Versions of windows like windows 7,8, and 10. So this guide is going to be based on Windows.
There are many ways one can use to uninstall Fortnite on a PC. So, to completely uninstall Fortnite on PC follow these steps:
First, navigate to the Epic Games launcher.
Then double-clicking on the epic games launcher icon located on the desktop.
Then, on your screen, a symbol of gear will appear, and press that button.
After that in the dropdown menu, click on the item uninstall.
Confirm it's in an installation by clicking the next button.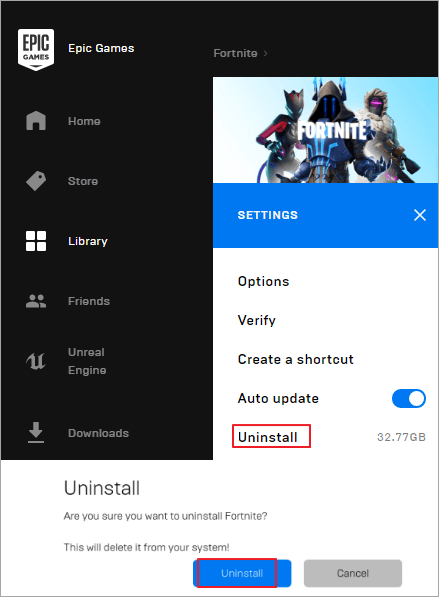 👉 There is also an alternative method to uninstall it completely.
Press the icon with a gear symbol that is located on the main screen of the epic launcher.
Then click on the item option.
Then, you'll see a Fortnite installation option on the menu.
Now, you can choose to uninstall the additional client Fortnite saves the world, removing the checkmark in his voice and pressing the button to apply.
Then press the yes button in the confirmation notice. Something like this: Do you really want to remove the following component from your system?
This way you can free up the unnecessary space from your PC that is taken by the files of Fortnite.
---
How to Uninstall Fortnite on Mac?
Mac users sometimes report that Fortnite files are still in their device. So keeping this in mind. I have mentioned a complete guide below so that you won't face any problem regarding uninstalling Fortnite internal files.
👉 You can manually uninstall Fortnite on Mac by following these steps:
Use command + Option + Esc key. This will open up the task management window.
Now, select the Epic game icon and click on the Force Quit button.
Fortnite usually creates its folder by default. Where it keeps all the necessary data. So to delete the Fortnite executable file, open Finder > Macintosh HD > users > Shared > Epic Games > Fortnite > Fortnite Game > Binaries > Mac > select FortniteClient-Mac-Shipping.app and drag it to the Trash.
Now, you can remove all the Fornite files from your device and uninstall Fortnite from Mac completely.
---
How to Uninstall Fortnite on Xbox?
Most of the time Xbox users face the same storage problem. As Xbox provides 50GB of space but still it's insufficient for heavy gamers and this can create a nuisance to them.
So, to solve this issue you just have to go through this complete guide and completely Uninstall Fortnite on Xbox follow these simple steps:
Firstly, you have to navigate to the My Games & Apps tile on your Xbox dashboard.
Then, select the Fortnite thumbnail from among the games in your library.
Then press the menu button on your controller.
Now, select Uninstall from the menu that appears.
And here we go. Now you have successfully uninstalled Fortnite on Xbox.
---
How to Uninstall Fortnite on PS4?
Just like the Xbox users, PS4 users also face the same kind of issues related to storage capacity. Because sometimes it's difficult to play 2 or 3 games on the PS4. So, you have to uninstall some games from it.
But it's a simple task to Uninstall Fortnite on PS4 just follow these steps and then you are good to go.
Firstly, in your game library search for Fortnite Thumbnail.
Then, select the Fortnite game.
After that press the options button on your controller.
Now, choose the delete option from the menu and then select ok.
Now you are all set. Try these steps now.
---
How to Uninstall Fortnite on PS5?
Unlike other devices PS5 has multiple ways to uninstall Fortnite from your PS5 console. So just follow these simple steps to uninstall Fortnite completely from PS5.
👉 If the Fortnite game is available in the Home menu. Then
Highlight the game from the Home menu
Press, options button on the PS5 controller that is located on the right side of the touchpad
Select delete
Select ok
👉 Delete Fortnite from the library:-
On the home menu, navigate to the library
Select the install tab.
Highlight the game and press the options button on the PS5 controller.
Now, select Delete.
And then, select ok.
👉 Delete Fortnite from the setting menu:-
From the Home screen, select the setting gear in the upright corner.
Select storage.
Now, select Games and apps.
Then, select Fortnite and click on the Delete button.
This way you can delete all the files of Fortnite and uninstall it completely.
---
How to Uninstall Fortnite From iOS and Android Devices?
Well, if we talk about Android devices then, I guess you already know that unlike PUBG, Fortnite is available for only limited devices like Asus ROG, Huawei mate 20X, Samsung Galaxy S10 and other newly launched samsung mobiles.
And on the other hand, if we talk about iOS devices then Fortnite is available only on those who support iOS version 13.2 or newer.So, in this section you'll learn how to uninstall Fortnite on Android and iOS devices.
---
Android
Long press on the Fortnite icon on your home screen
Hold until you see a basket-like icon.
Now, Drag the Fortnite app to the symbol of the basket.
Now, press the accept button and that's it.
👉 Or if you want to uninstall it completely alongside it's files then there is also an alternative way to do this.
Press the icon with the gear symbol called settings.
Then, Navigate to Applications.
After that, press on the Fortnite icon
And now uninstall it by pressing the Uninstall button.

---
iOS
👉 iOS also follows the same procedure but follows configurations.
Locate the finger on the Fortnite icon on your home screen until you see an X symbol on the top left-hand- corner.
Tap it and that's it. The Fortnite is uninstalled now
👉 Alternatively, to remove Fortnite files alongside the game just follow these simple steps.
Press the icon with the gear symbol.
Tap the item generally.
Press free space for iPhone/iPad
There you'll find a complete list of installed apps on your device.
Now, Select Fortnite and press uninstall button.
---
FAQs
How Do I Completely Remove Fortnite?
Just follow these steps which I have mentioned above and you will be able to completely remove Fortnite from your device.
Does Uninstalling Epic Games Uninstall Fortnite?
Yes, once you uninstall Epic Games launcher then all the games related to Epic games will automatically uninstall from your device including Fortnite.
How Do I Remove Fortnite from my Laptop?
There are plenty of ways to remove Fortnite from one's laptop. Like directly Uninstalling Epic games launcher or by removing Fortnite directories from the root folder.
How Do You Uninstall Fortnite on a PS4?
Anyone can uninstall Fortnite on a PS4 by following these steps

✔️ Firstly, in your game library search for Fortnite Thumbnail.
✔️ select the Fortnite game. After that press the options button on your controller.
✔️ choose the delete option from the menu and then select ok.